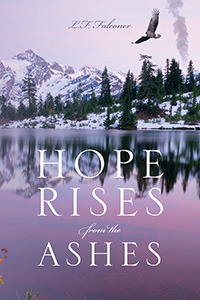 Title: Hope rises from the ashes
Author: L.F. Falconer
Publisher: Outskirts Press
Release date: 2013
Pages: 268

* "You are my destiny, my love. My life." He brings my hand to his lips. "It ain't right for a man to try and fumble through the dark seas of life all by himself, Collie. He needs a guiding light. You are my light. That light might flicker in and out, right enough, but it's the one light I need, and the one light I'll follow 'til the end of my days. It is my light and it shines in you. *
_________________________________
A broken heart. A shattered dream.
Collie's journey into adulthood was met with tragic consequences when she defied society to follow her heart. In this sequel to "Hope flies on Broken Wings," Collie attempts to escape the haunting memories of the worst night in her young life. Fearing a lifetime of heartbreak and shame, she leaves her seaside homeland of Donnel to seek refuge in Tillaman Realm beyond the eastern mountains. But she soon finds herself wishing she's never left home when she becomes hopelessly entangled in a dangerous game of possession and jealousy between two Tillaman warriors and the women who desire them. Has a reluctance to part with her merman scale charm bound her into a prison of her own making? Or will a gift form the sea be her salvation?

In a Middle-Age world full of fantasy, romance and fights for honour, young Collie learns that being a woman is not easy, especially away from home. After her love died at sea, she flees to another realm in order to start life anew. But with a winged-lion threatening the kingdom, fiery knights duelling for her and jealous young women trying to harm her, her journey is not as she had imagined... and it is only the beginning.
In Hope rises from the ashes, L.F. Falconer continues the story of Collie after she lost Dugan. Although it is the second book of the series, reading Hope flies on broken wings is not required in order to understand the plot. We are given enough hints of what took place before in order to understand the young lady's motivations to leave her memories behind and look for something else.
The plot itself is easy and everything comes slowly into place. There are a few quicker scenes, but we mostly have time to concentrate on the characters, which are all vividly described: the proud knights Morgan and Thoren, innocent and naive Collie, talkative Giselle, faithful Brother John, mischievous Damile and Lisana, sad and broken Natt... Their psychology is shown little by little, keeping the suspense all through the story.
The contrast between Collie and the other women of Tillaman realm is strong and she quickly understands that being a foreigner is not an advantage. The author raises many interesting questions about the condition of women, the integration of strangers and, above all, about love.
We focus on Collie's new life, but we are also given an idea of how she used to live in Donnel – her birth realm – which enables the reader to compare the differences in the society and traditions of these two places. We can also feel the historical period through the way characters live and through various other typical things such as the problems of communication and transport between the different realms, the knights who protect the town and the importance of religion for some people.
The writing style is surprising and it is possibly the reason why it took me so long to become immersed in the story. The present tense used to describe the adventures seemed a little strange, especially as it is taking place in the Middle-ages. L.F. Falconer also writes in an oral style, not only in the dialogues, but in the description as well, which is quite unusual. However, after a few chapters, I came to enjoy it because the story seemed livelier and we really feel as if we are experiencing Collies story with her. It is also a contrast with the chapters told by other characters and shows the differences in people's accents and ways of speaking.
Of course, we all wish for a happy ending, especially after seeing the main protagonist in so many desperate situations. Several twists and turns will keep the reader's attention until the last pages, in which the rhythm of the action becomes quicker and quicker. Although I am satisfied with the story altogether, I felt that the end was rushed – despite a few welcomed surprises – and a few chronological details were not accurate, or rather not believable.
Hope rises from the ashes is a beautiful tale of love and honour which mixes several genres. Between romance, history and fantasy, L.F. Falconer published an unusual book which will seduce readers from various horizons, whether they are interested in fantasy, history or romance.
I would like to conclude this review by thanking Bostick Communications who made it possible for me to discover this book. Thank you very much to author L.F. Falconer for providing me with a – signed – copy of her book in exchange of my honest review.