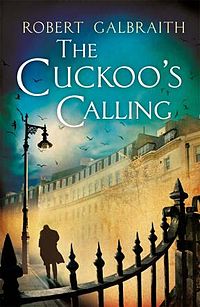 Title: The Cuckoo's Calling
Author: Robert Galbraith (J.K. Rowling)
Publisher: Sphere
Release date: 2013
Pages: 449
* Strike remembered the television pictures: the black body bag in a stretcher, flickering in a storm of camera flashes as it was loaded into an ambulance, the photographers clustering around as it started to move, holding up their cameras to the dark windows, white lights bouncing off the black glass. He knew more about the death of Lula Landry than he had ever meant or wanted to know; the same would be true of virtually any sentient being in Britain. Bonbarded with the story, you grew interested against your will, and before you knew it, you were so well informed, wo opinionated about the facts of the case, you would have been unfit to sit on a jury.*
_________________________________
When a troubled model falls to her death from a snow-covered Mayfair balcony, it is assumed that she has committed suicide. However, her brother has his doubts, and calls in private investigator Cormoran Strike to look into the case.
Strike is a war veteran - wounded both physically and psychologically - and his life is in disarray. The case gives him a financial lifeline, but it comes at a personal cost: the more he delves into the young model's complex world, the darker things get and the closer he gets to terrible danger.
_________________________________
* How easy it was to capitalise on a person's own bent for self-destruction; how simple to nudge them into non-being, then to stand back and shrug and agree that it had been the inevitable result of a chaotic, catastrophic life.*

I must admit that my reasons for reading The Cuckoo's Calling were perhaps not the best ones. I bought it when I learnt that Robert Galbraith was actually the pseudonym used by J.K. Rowling for her first crime book. As a fan of Harry Potter, I had to read it! It was not a spontaneous buy as usual, but I liked the cover picture of the book and its colours straightaway.
Having finished reading it, I wonder if it is a book I would have bought if I had just come across it at the bookshop. It probably is, not only because of the cover, but because it looked like a thrilling story in the first place… and it was indeed.
Famous model Lula Landry is found dead after she fell off her balcony on a snowy night. Given the girl's difficult past and troubled present, the police assume that it is suicide, but her brother is not convinced. He asks private detective Cormoran Strike to look into the case, which is much more complex than it first appears to be. With the help of Robin, his temporary secretary, Cormoran investigates and starts to wonder whether Lula's brother is actually right and the police made an enormous mistake when they decided it was suicide.
From the first pages, we are thrown into the typical atmosphere of London. Lula Landry being a successful and famous model, most of the characters related to the investigation come from upper-class society… a rather strange world where money and appearance are everything. The description seems extremely real –although I have not been able to see for myself– and is perfect for the plot. Many people have got secrets they do not want to see revealed. How do we know if the characters are sincere or if they act in their own interest?
We then also get to know a range of characters who come from a much lower rank in society. Lula was rich, but she had not always been. She knew fashion designers, models and other celebrities, but also poorer people and homeless. From Mayfair to the Eastern parts of the city, we discover the different social groups which are a feature of the population in London. By the writing style, we feel how the atmosphere changes, depending on where Cormoran is and who he is interacting with.
The protagonists are precisely described, with many details, and I quickly grew attached to Cormoran and Robin, while I immediately hated some other characters. The investigation is the main focus, but we also catch a glimpse of the characters' personal life –which is sometimes rather complicated. This makes them more human and the story becomes even more realistic.
The mystery is thrilling, extremely well written and the atmosphere of the whole book perfectly fits the development of the plot. There are moving moments, but also times of fear and doubt; in perfect balance, the tension and the suspense build up until the breaking point, allowing the reader to make his or her own assumptions. Many of the characters are suspect, but what did actually happen in Mayfair the night Lula died?
The Cuckoo's Calling is the proof that J.K. Rowling's success is not only due to her name. This thrilling mystery will keep every reader captivated until the very end… and surprise many by its resolution. An amazing read which I recommend to all: fans of J.K. Rowling, lovers of crime fiction and those who appreciate well-written and perfectly constructed stories.