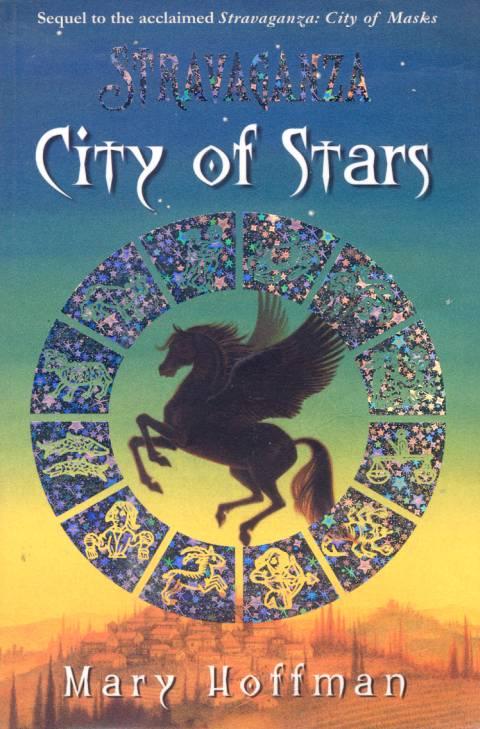 Title: City of Stars
Series: Stravaganza #2 (6 books)
Author: Mary Hoffman
Publisher: Bloomsbury
Release date: 2003
Pages: 458
* Dreaming of a city with flying horses was one thing... But coming face to face with someone she knew to be dead - that was something else again. *
_________________________________
Georgia loves horses and hates her step brother. It seems Russel's main aim is to make Georgia miserable. When Georgia finally saves up enough money to buy the little model of a winged horse she has admired in the window of an antique shop, she knows she has to keep it well out of Russell's way in case he realises it is important to her. But Georgia doesn't know that the little horse offers her an escape to another world and another time, that of sixteenth-century Remora, a city similar to Siena in Italy, which has evolved quite differently...

City of stars takes us to sixteenth-century Talia again, but this time we visit Remora, a city similar to Siena.
Georgia loves horses, but she is unhappy because her stepbrother persecutes her. The day she saves up enough money and manages to buy the model of a winged horse, she cannot imagine that it will transport her to another world which reminds her of Italy, but has evolved in quite a different way. There, in a city full of intrigues and dangers, she must find what her mission as a Stravagante is before it is too late.
Although the concept is the same as in the first book of the series (and the following ones) – an unhappy twenty-first century teenager who finds themselves sent to Talia by their talisman and has to accomplish a mission – the story is very different, and even more thrilling. A different setting, new characters amongst the ones we already know, more intrigues...
Horses are central in this book, not only because they are what Georgia loves most. In Remora, they are extremely important and every year a famous race takes place, the Stellata, which can be compared to the Palio our Siena. The way Remora is organised is extremely interesting because it mixes reality with belief, history and magic, and everything revolves around horses and the preparation of the Stellata. We are drawn into this strange universe and introduced to several Remorans such as Cesare and Paolo.
At the same time, other characters from the first book reappear –and their meeting could be full of surprises. However, the plot is understandable even for those who have not read it – I actually started the series by City of stars – because the main events and concepts are repeated as an introduction to Georgia in Talia. We also get to know better an extremely important family: the di Chimici. The first pages in which their names appear might be quite difficult to understand to start with, but there is no need to worry about forgetting who they are as the protagonists will later meet with each of them – and develop relationships from hatred to friendship.
Again, the descriptions are vivid and full of colours, sounds and emotions. It is interesting to meet new characters, but also to see how the ones we already know have developed since their adventures in Belleza finished. We follow the Stravaganti and their friends of course, but also their enemies – most of the di Chimici and their spy Enrico – as well as more neutral characters, for example the Manoush. I liked the fact that, contrary to many children or young adult novels, there are not only 'good' and 'bad characters', although they are sometimes a little simplified and predictable.
After the introduction, the story unfolds quickly, full of twists and turns – which are most of the time unexpected. In the middle of the court intrigues, love stories develop or evolve, as well as friendships. We get to know more historical details – be it because of the comparisons between Italy and Talia and their differences – and more about the Stravaganti, which are a really fascinating brotherhood. I particularly enjoy the character of Rodolfo, who seems very human and realistic.
City of Stars is the first book I had read of the Stravaganza series – quite a long time ago – and probably my favourite one. With scenes full of tension, the plot is well built and the ending quite surprising. The amount of historical references is incredible, as well as more hidden morals and theories, and every re-reading will bring some more details into light.
_________________________________

Stravaganza is a series of 6 books (so far). Here are my reviews from the other books